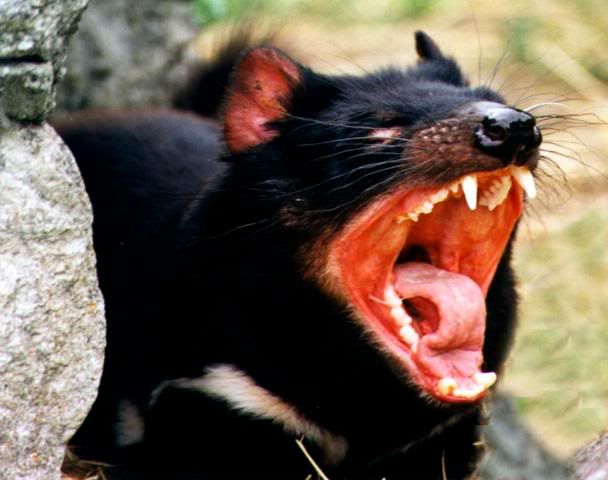 As comical as it is, the familiar Looney Tunes portrayal of a Tasmanian devil as a seething, snarling, insatiable lunatic is, at times, not all that far from the truth.
Tasmanian devils have a notoriously cantankerous disposition and will fly into a maniacal rage when threatened by a predator, fighting for a mate, or defending a meal. Early European settlers dubbed it a "devil" after witnessing such displays, which include teeth-baring, lunging, and an array of spine-chilling guttural growls.
These famously feisty mammals have a coat of coarse brown or black fur and a stocky profile that gives them the appearance of a baby bear. Most have a white stripe or patch on their chest and light spots on their sides or rear end. They have long front legs and shorter rear legs, giving them a lumbering, piglike gait.
The Tasmanian devil is the world's largest carnivorous marsupial, reaching 30 inches (76 centimeters) in length and weighing up to 26 pounds (12 kilograms), although its size will vary widely depending on its specific range and the availability of food. Its oversize head houses sharp teeth and strong, muscular jaws that can deliver, pound for pound, one of the most powerful bites of any mammal.
Tasmanian devils are strictly carnivorous, surviving on small prey such as snakes, birds, fish, and insects and frequently feasting communally on carrion. They are at their most rowdy when jockeying for position on a large carcass. Like other marsupials, when they are well fed, their tails swell with stored fat.
Devils are solitary and nocturnal, spending their days alone in hollow logs, caves, or burrows, and emerging at night to feed. They use their long whiskers and excellent sense of smell and sight to avoid predators and locate prey and carrion. They'll eat pretty much anything they can get their teeth on, and when they do find food, they are voracious, consuming everything-including hair, organs, and bones.
Mothers give birth after about three weeks of pregnancy to 20 or 30 very tiny young. These raisin-size babies crawl up the mother's fur and into her pouch. However, the mother has only four nipples, so only a handful of babies survive. Infants emerge after about four months and are generally weaned by the sixth month and on their own by the eighth.
Once abundant throughout Australia Tasmanian devils are now indigenous only to the island state of Tasmania. Their Tasmanian range encompasses the entire island, although they are partial to coastal scrublands and forests. Biologists speculate that their extinction on the mainland is attributable to the introduction of Asian dogs, or dingoes.
Efforts in the late 1800s to eradicate Tasmanian devils, which farmers erroneously believed were killing livestock (although they were known to take poultry), were nearly successful. In 1941, the government made devils a protected species, and their numbers have grown steadily since.



Description. A rather large, robust, short-legged "weasel"; body broad and squat; tail short, thick and bushy, usually shorter than the outstretched hind legs; pelage long and shaggy, especially on back and sides; upperparts grizzled grayish-yellow in color; a distinct white stripe from near tip of nose back over top of head to shoulder area, also a white crescent on each side of face just back of eye and another at anterior base of ear, enclosing or outlining a large blackish area; snout and rest of head grayish or blackish; underparts yellowish-white; feet blackish; five toes on each foot; front feet large, with claws 25 mm or more in length; hind feet smaller, claws much shorter; skin loose on the body; eyes and ears small; neck short. Dental formula: I 3/3, C 1/1, Pm 3/3, M 1/2 X 2 = 34. Young similar to adults in color and color pattern. External measurements of adult male: total length, 788 mm; tail, 133 mm; hind foot, 120 mm; female, 730-150-114 mm. Weight of adults, 4-10 kg, averaging about 7 kg.


Habits. Badgers occupy a variety of habitats. It ranges over most of Texas except for the extreme eastern part of the state, and recent records suggest it is expanding eastward as a result of land-clearing operations. Badgers are most common in the prairie and desert sections of the West, but limited numbers venture into the mountains where individuals have been seen or captured at elevations well above 3,000 m. In general, they occupy the entire range inhabited by ground squirrels and prairie dogs on which they rely in large measure for food. In Texas, they range from sea level, as on Padre Island, to at least 1,500 m in the Davis Mountains.
As suggested by the disproportionally long front claws, badgers are expert diggers and their short, powerful front legs can move earth with amazing speed. A badger was encountered on Padre Island as it sought refuge in a shallow burrow in a sandbank. Three people, working frantically with shovels for more than an hour, were so outdistanced in their race to capture the animal that they gave up.
It is a common belief that badgers hibernate in winter, but such is not the case. They may sleep through several days of inclement weather, as do skunks and bears, subsisting on fat stored in the body but they do not experience the physiological changes characteristic of true hibernation; namely, considerably reduced rate of respiration and heart beat, lowered body temperature, and insensibility. They are frequently encountered in winter, particularly on mild days, and in the southern parts of their range they are active throughout the entire year.
As indicated above, the chief food of badgers is ground squirrels. In addition, pocket gophers, kangaroo rats, other burrowing rodents, and cottontails are dug out, caught, and eaten. They also eat lizards, birds, eggs, insects, and occasionally carrion.
Badgers are ordinarily solitary except during the mating season. They breed in summer and early autumn. Males are probably polygamous and mate with more than one female. Implantation is delayed until between December and February, and the young are not born until March or April. Litter size ranges from one to five, averaging about three. The young are born in an underground nest and are lightly furred and blind at birth. The eyes open at 4 weeks, and weaning occurs at about 8 weeks of age, when the young are half grown. The young remain with their mother until late fall, when the family scatters.
Badgers have few natural enemies other than man. They are ferocious fighters and are usually more than a match for any dog. In one recorded instance a badger successfully defended itself in a fight with two coyotes.
The fur of the badger ordinarily does not command a high price and, because of this, relatively few are trapped. Data indicate that the population is now increasing except in those parts of the animal's range where poison is used ostensibly to reduce the population of coyotes. The badger's chief value lies in helping to keep down excessive populations of rodents.