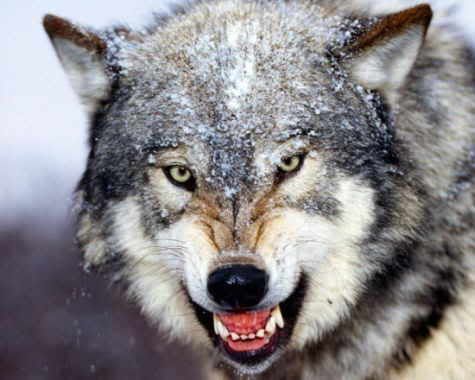 he wolf is the largest member of the canine family. Gray wolves range in color from grizzled gray or black to all-white. As the ancestor of the domestic dog, the gray wolf resembles German shepherds or malamutes. Wolves are making a comeback in the Great Lakes, Northern Rockies and Southwestern United States.
Height 26-32 inches at the shoulder
Length 4.5-6.5 feet from nose to tip of tail
Weight 55-130 lbs; Males are typically heavier and taller than the females
Lifespan 7-8 years in the wild, but some have lived 10 years or more
Diet
Staples Ungulates (large hoofed mammals) like elk, deer, moose and caribou.
Also known to eat beaver, rabbits and other small prey. Wolves are also scavengers and often eat animals that have died due to other causes like starvation and disease.
Population
There are an estimated 7,000 to 11,200 wolves in Alaska and more than 5,000 in the lower 48 states. Around the world there are an estimated 200,000 in 57 countries, compared to up to 2 million in earlier times.
Range
Wolves were once common throughout all of North America but were killed in most areas of the United States by the mid 1930s. Today their range has been reduced to Canada and the following portions of the United States: Alaska, Idaho, Michigan, Minnesota, Montana, Wisconsin and Wyoming. Mexican wolves are found in New Mexico and Arizona.
Thanks to the reintroduction of wolves in 1995, Yellowstone National Park is one of the most favored places to see and hear wolves in the native habitat.
Behavior
Wolves live, travel and hunt in packs of 4-7 animals on average. Packs include the mother and father wolves, called the alphas, their pups and several other subordinate or young animals. The alpha female and male are the pack leaders that track and hunt prey, choose den sites and establish the pack's territory. Wolves develop close relationships and strong social bonds. They often demonstrate deep affection for their family and may even sacrifice themselves to protect the family unit.
Wolves have a complex communication system ranging from barks and whines to growls and howls. While they don't howl at the moon, they do howl more when it's lighter at night, which occurs more often when the moon is full.
Cheetah
Acinonyx jubatus
The fastest land animal in the world, the cheetah is a marvel of evolution. The cheetah's slender, long-legged body is built for speed. Cheetahs are tan in color with black spots all over their bodies. They can also be distinguished from other big cats by their smaller size, spotted coats, small heads and ears and distinctive "tear stripes" that stretch from the corner of the eye to the side of the nose.
Height 2 ½ -3 feet at shoulders
Length 44-53 inches (tail length of 26-33 inches)
Weight 110-140 pounds
Top Speed 70mph
Lifespan 10-12 years
Diet
Staples Gazelles, wildebeest calves, impalas and smaller hoofed animals
Population

In 1900, there were over 100,000 cheetahs across their historic range. Today, an estimated 9,000 to 12,000 cheetahs remain in the wild in Africa. In Iran, there are around 200 cheetahs living in small isolated populations.
Range
Historically cheetahs were found throughout Africa and Asia from South Africa to India. They are now confined to parts of eastern and southwestern Africa and Iran.
Behavior

Found mostly in open and partially open savannah, cheetahs rely on tall grasses for camouflage when hunting. They are diurnal (more active in the day) animals and hunt mostly during the late morning or early evening. Only half of the chases, which last from 20-60 seconds, are successful.
Cheetahs knock their prey to the ground and kill with a suffocating bite to the neck. They must eat quickly before they lose the kills to other bigger or more aggressive carnivores.
Cheetahs are also typically solitary animals. While males sometimes live with a small group of brothers from the same litter, females generally raise cubs by themselves for about a year.