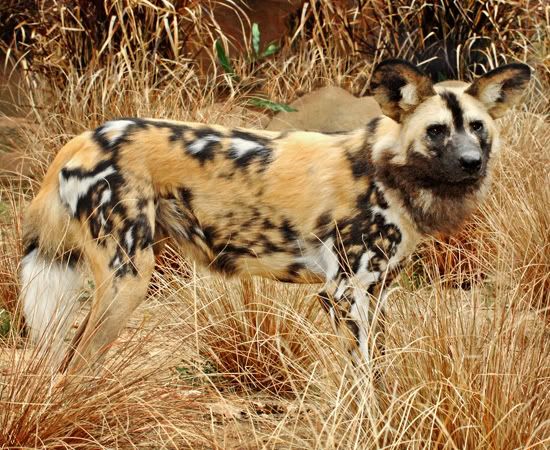 DESCRIPTION:
African wild dogs are the size of medium domestic dogs. Their Latin name, Lycaon pictus, means "painted wolf-like animal." Their coats are mottled in shades of brown, black and beige. They have large, rounded ears and dark brown circles around their eyes. The dogs differ from wolves and other dogs in that they have four toes instead of five.
The average African wild dog weighs between 37 and 80 pounds and measures 24 to 30 inches high.
Between 2,000 and 5,000 of these dogs remain in the wild, mostly in game preserves or national parks.
African wild dogs can live up to 10 years.
African wild dogs are only found in Africa south of the Sahara Desert.
Savannas, grasslands and open woodlands are the preferred habitats of African wild dogs.
African wild dogs hunt antelope, zebras, wildebeest, springboks, gazelles and impala.
African wild dogs live and hunt in groups called packs. Packs typically include an alpha (dominant) male and female, their offspring and other related members. Historically, more than 100 dogs gathered in packs during spring migrations, but today the average pack of African wild dogs contains approximately 10 members. Unlike other canine species, packs of wild dogs frequently contain more male members than female members.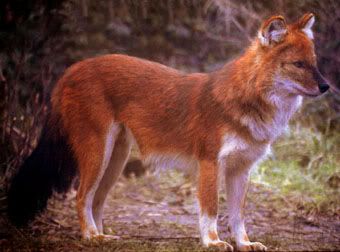 The dhole (pronounced "dole") is also known as the Asiatic wild dog, or red dog. It is about the size of a German shepherd, but looks more like a long-legged fox. Dholes are classified with
wolves
, coyotes, jackals, and foxes in the
taxonomic
family Canidae.
Dholes vary in color from charcoal gray to rust red to sandy beige, depending on their habitat. Their tails are brushy and fox-like, often with a black tip. These wild dogs usually have white feet, bellies, and chests, but not always. Adults have long tails and rounded ears, and males tend to be larger and heavier than females. They are also very good at adapting to their surroundings, like most dog species, and can be found in all sorts of different habitats. They also maintain very large territories-up to 34 square miles (88 square kilometers)! One of the reasons for keeping such a large home range is the need to find prey to eat.
The dhole is an unusual dog for a number of reasons, though. It doesn't fit neatly into any of the dog subfamilies (wolves and foxes, for instance). Dholes have only two molars on each side of their lower jaw, instead of three, and have a relatively shorter jaw than their doggie counterparts. Also, females have more teats than other canid species and can produce up to 12 pups per litter.