As this includes old age and disease, the actual mortality rate due to fighting other lion would be less than 5%.
Okavango delta lion,
Out of 21 lions monitored by scientists, Only 3 lions killed by fighting in 5 years.
http://www.lionaid.org/science/male_move.htm
Annual morality is : 2.8%
Unlike many lion fanatics want us to believe, lions are not mindless killers. Lions like Duba boys lived 16 years. Many lions live till old ages. Lions like other animals try to avoid fights through various means.
Lions avoid fight through roars,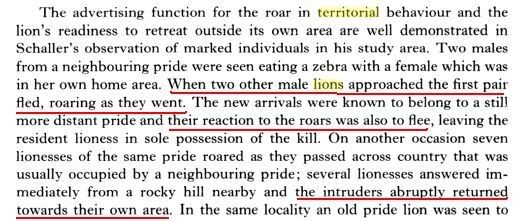 Lions avoid fight through bluffing,



But "

since a fight usually hurts both the attacker and defender, they mostly use other methods of dissuasion - particularly bluffing. …… the male may stand broadside to a stranger displaying his mane and making himself appear large and impressive. Such bluffs usually succeed

" (Page 60, Wonders of Lions. George & Kay Schaller.).



Lions avoid fight through various tactics,





(Packer)



Serious fights between lions are rarely seen in best-studied population,






(Packer)



Lions avoid transient males, if no immediate danger






(Packer)

Boldchump like always he does, underrate and underestimate tigers territorial and fighting behaviors.

From Schaller's book,





Accoring to Tiger expert ullas karanth,




According to thapar,




Some recent incidents and examples of Tiger's territorial fightings,



Ranthambore wild cats in turf war, tigress killed



JAIPUR: The rise in tiger population in Rajasthan's Ranthambore Sanctuary seems to have sparked off turf wars among the big cats.

An eight-year-old tigress was found dead on Monday and forest officials suspect she was killed in a fight over territory with another tigress. The carcass of the tigress, who was from Gudda area of the park, was found in a decomposed condition.

The tigress may have died two to three days ago, RN Mehrotra, principal chief conservator of wildlife, Rajasthan, told DNA, adding forensic reports were awaited to ascertain the exact cause of death.

Experts and wildlife officials say overpopulation of the big cats in the wildlife park has forced them to redefine their territories, resulting in fights. Ranthambhore is the only wildlife park in the country where a rise in tiger count was recorded after a census in 2007. The number of tigers has increased from 26 in 2005 to 32 in 2008. The tally does not include 14 cubs.

Experts believe their number has increased after strong security measures, better breeding facilities and availability of good prey in the reserve area.

As a result, territorial disputes among tigers have become disturbingly frequent in the park which is spread over 392 square km.

http://www.dnaindia.com/report.asp?newsid=1187546



Tiger found dead in Mysore forests

MYSORE: Even before people could recover from the shock of the death of a large number of elephants in Karnataka at the hands of callous man, the news of the death of a big cat left the wildlife enthusiasts shell-shocked.

A seven-year-old male tiger was found dead by forest staff during routine rounds in the woods in DB Kuppe forest range near Nagarhole on Friday. The body was found when they trailed the foul odour emitting from the body of the dead animal.

According to veterinarians, the animal may have died a couple of days ago since the body has begun decay. Though at prima facie, tiger is suspected to have died of internal fightwith his fellow beast, foul play is not ruled out.

http://www.dnaindia.com/report.asp?newsid=1208691

Tiger killed in Kanha National Park

BHOPAL, JANUARY 9: A fully-grown tiger was killed on Monday, following a territorial fight with another tiger at the Kanha National Park.

The badly-torn carcass of the 10-year-old big cat was recovered on Tuesday. Park employees heard the two animals having a fierce fight, which lasted for a long time.

http://www.indianexpress.com/news/tiger-killed-in-kanha-national-park/259813/


Kaziranga Tigers in Territorial War

Golaghat (Assam), Feb 14 The carcass of a three-year-old tiger was found in famous Kaziranga National Park, the fifth tiger to have died here since January.

Officials of Kaziranga National Park said the carcass was found by forest guards in Kohora range of the national park. It was probably killed by a male adult tiger, officials said.

The gender of the dead tiger could not be ascertained, sources added.

Five tigers have so far died this year. Most of them were either mauled by male adults or died due to natural causes.

http://www.ndtv.com/conve...aspx?id=NEWEN20090083523

Tiger found dead at TATR



According to sources, this is the sixth death of a tiger since January 2005 inside Tadoba core area. Earlier, in the summer of 2005, two tiger cubs were found dead in Zari area. Later, a male tiger died in a territorial fight in Khatoda area on April 28, 2006. Similarly, a three-year-old tigress was found dead in compartment number 111 near Jamni Chowk in June 2006.

http://bigcatrescue.wordpress.com/2008/05/17/tiger-found-dead-at-tatr/


Tiger found dead in Kanha reserve
19 Jan 2009

MANDLA (MP): A tiger was found dead in Kisli range of Kanha Tiger Reserve spread across Balaghat and Mandla districts of Madhya Pradesh.

The tiger, that was found dead in the reserve yesterday, had died in a fight with another big cat for territorial supremacy," Reserve Deputy Director S Sen said on Monday.

"The animal might have died some three to four days back," Sen said.

The body of the nearly four-year-old feline was recovered after stink emanated from the area, sources said.

Forest officials said fight among tigers over territory is common in the reserve

http://timesofindia.india.../articleshow/4002640.cms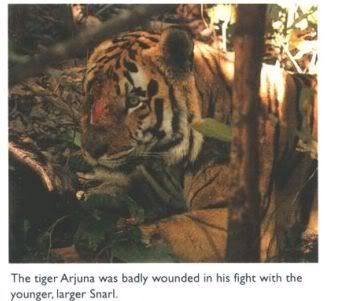 This tigress got mauled by male tiger while trying to steal the food,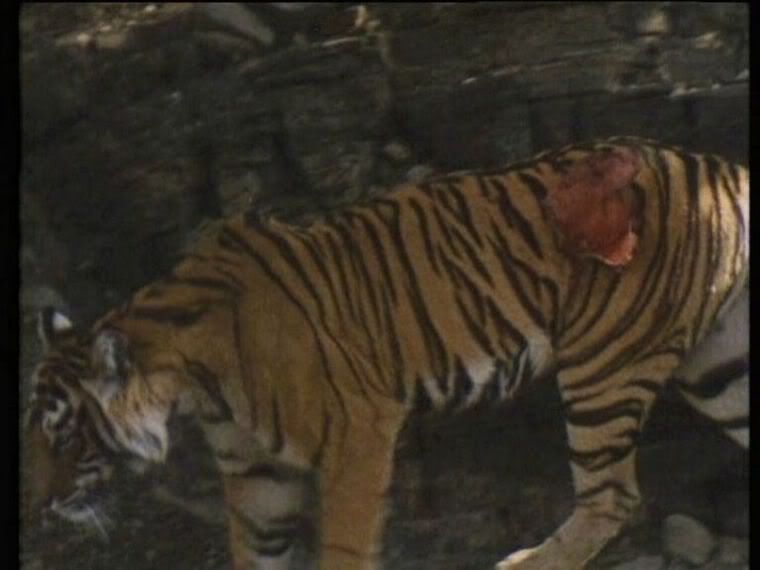 Tigress seriously injured in trying to protect their cubs from new male,




Male tiger killed in territorial battle,





Regarding Schallar's comment about Priority-rights to share kill and McDougal and Seidensticker's observation in Nepal, as the source clearly tells, this sharing can be observed only among familar tigers(among the mother tigress and her nearby settled daugthers, resident males etc). It doesn't happen among 2 unknown tigers.

Seidensticker says 20-25% of tigers killed by fighting other others,





Tigers also fight for food, tigresses fight male tigers to protect cubs (unlike lionesses which usually let cubs to be killed by male lions)



Tigers fight for mating rights, (unlike lions which share mating rights)



lwar: In a setback to efforts for reviving tiger population in Sariska, one of the five tigers translocated to the reserve in Rajasthan has been found dead.
The carcass of the tiger, identified as " ST-1" was found by a forest department team near Rajaugarh on Sunday.
Another tiger "ST-4" has also been missing for the last three days.
The injury marks indicate that the tiger was killed probably in a territorial fight with another tiger, officials said, adding the exact cause of death will be clear only after post-mortem.
National Tiger Conservation Authority (NTCA) head Rajesh Gopal has rushed to the tiger reserve.
"Prima facie it seems that the tiger, which was the first one to be relocated to Sariska two years ago from Ranthambore sanctuary, died in a territorial fight with another predator which is common among the species," said an NTCA official.
Meanwhile, Environment minister Jairam Ramesh, speaking to CNN-IBN, hasn't ruled out poisoning as the cause of death.