Crocodile Eating Pics – Giant crocodile eating an antelope in pictures 2011 taken in a national reserve located in Kenya.

Pics of crocodile eating a Topi Antelope in the Maasai Mara National Reserve of Kenya, were photographed by Paolo Torchio from the bank of the Mara River just over a week ago.
The giant 21 foot Nile crocodile ate the 300 pound antelope horns and all, as it was crossing the Mara River where the crocs lay in wait for a meal as wildebeest and antelope cross on their annual quest to find new pastures.
July to October is the 'dry season' and for the crocodile 'eating is good' as huge herds of migratory herbivores roam the area. The Maasai Mara National Reserve of Kenya is not a National Park and belongs to the Masai people.
http://news-in-review.com/crocodile-eating-pics/132505/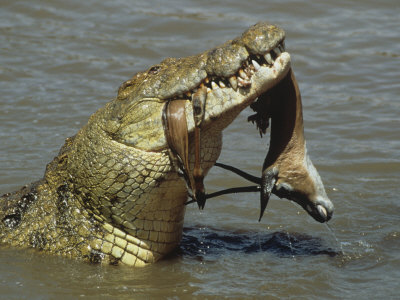 I duno if it's Gustav, I don't see the bullet-spear wounds on side of his head and his color is lighter shade of green, this croc seems to be a Kenya giant.