Please share Gustave pictures and information here.
The Nile crocodile is the largest crocodilian in Africa and is sometimes regarded as the second largest crocodilian after the Saltwater crocodile. The male crocodile usually measure from 11.5 to 16 feet long (3.5 to 5 meters), but very old, mature ones can grow to 18 ft (5.5 m) or more. Like all crocodiles they are sexually dimorphic, with the males up to 30% larger than the females, though the difference is even more in some species, like the Saltwater crocodile. Mature female nile crocodiles measure 8 to 13 ft (2.4 to 4.0 m)[8] Typical weight is 230 to 300 kg (510 to 660 lb). but very large & old males can reach up to 2,000 lb (910 kg).[10]
The largest accurately measured male was shot near Mwanza, Tanzania and measured 6.45 m (21.2 ft)
and weighed approximately 1,090 kg (2,400 lb). Average nile crocodile size (green) along with size of Gustave (grey) compared to a human 7-metre (23 ft) specimens and larger have been reported, but since gross overestimation of size is common these reports are suspect. The largest living specimen is purported to be a man-eater from Burundi named Gustave; he is believed to be more than 20 ft (6.1 m) long. Such giants are rare today; before the heavy hunting of the 1940s
http://eol.org/data_objects/13600675
On average the Nile crocodile is between 4.1 metres (13 ft) to 5 metres (16 ft), weighing around 410 kg (900 lb).
However, specimens measuring 6.1 metres (20 ft) in length and weighing 900 kg (2,000 lb) are not uncommon.
They have thick scaly skin that is heavily armored.
Gustave is an easy 20 feet or more.
Below is a large Croc in Kenya, other large crocs in Ethiopia have been reported to surpass 20 feet, so it is very possible the large ones are super solitary traveling far like Gustave.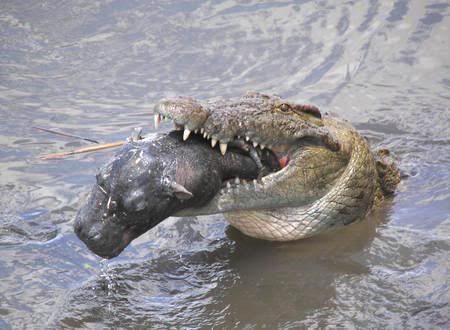 http://www.wanderlustasap.com/
http://godsfaintpath.com/safari-kenya-tanzania
beautiful croc prime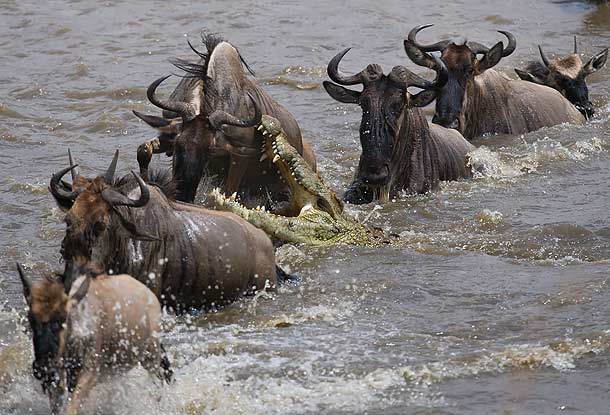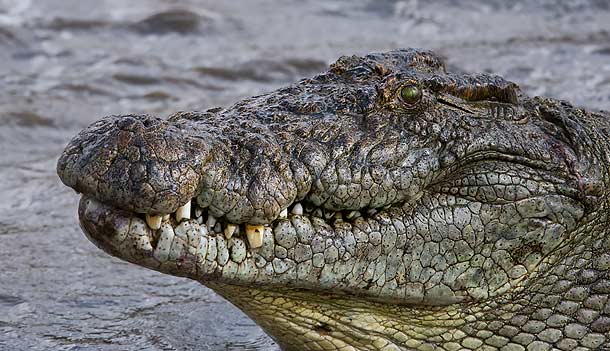 Ethiopia
http://www.indiaafricaconnect.in/index.php?param=news/3117